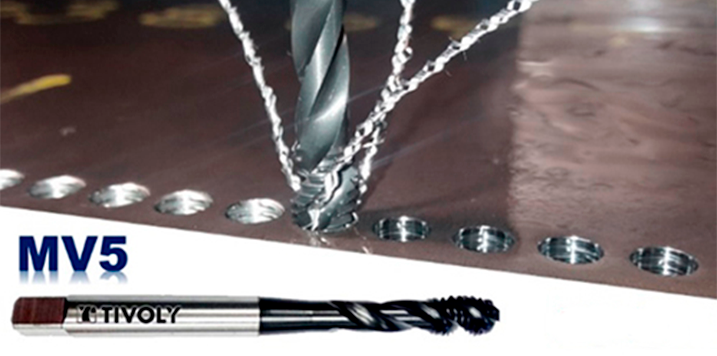 30 April, 2021
Expert cutting tool manufacturer, TIVOLY has developed a new range of screw taps: the MV5 range. This new range of screw taps was born from an in-depth analysis of the market and customer needs, making it a hugely competitive option.
This new range of screw taps has a number of key features:
The product has been tested and developed in TIVOLY's own testing centres.

Work times have been cut down: the MV5 saves on production times by cutting out the need to extract accumulated shreds. By preventing so-called birds' nests from forming, the need to halt production is avoided.

These male connectors screw in with shred evacuation guaranteed at depths of up to three times the diameter, both in through-holes and blind orifices. For sectors with automated processes, such as the industrial sector, this is a major plus because it ensures robustness in machining.

They provide innovation in both cut and coating geometry, a solution attained after extended testing.
NECO is one of the main manufacturers of cutting tools on the Spanish market. Under the TIVOLY brand, it sells one of the widest ranges on the market both in cutting tools and accessories for portable electrical tools: bits for metal, concrete and wood, screw taps, milling tools, reamers, countersinks, screw bits, industrial brushes, grinders, saws, crown saws and cutting discs. NECO has over 10,000 references in stock.