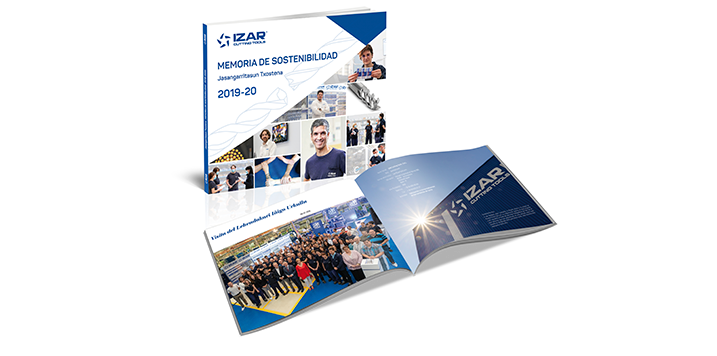 Loyal to its transparency policy, this June 2021 IZAR presents its 7th sustainability report, with the aim of strengthening the commitment of the Amorebieta-based firm to Corporate Social Responsibility.
This document summarises the profile of the organisation, the way of dealing with stakeholder participation, what IZAR is today and what it wants to be in the future, its values, the most significant milestones of these years and its development plans.
In the largest report of its history, with 96 pages of information of all kinds, IZAR presents a vast array of data to its stakeholders and the general public. From customer and employee satisfaction surveys to its balance of economic results, detailing also its organisational structure and governance, and not forgetting the actions and recognitions achieved in relation to its environment.
In short, we are met with a new exercise in transparency by the tooling manufacturer and, the fact is, now that we seem to be seeing the light at the end of the tunnel of the last 15 months of pandemic, it is time to strengthen relations with customers and suppliers now more than ever. Moreover, IZAR wants its workers to take pride in belonging to a leading business, not just on the cutting tool market, but also in the realm of social responsibility.
Lastly, for the first time this year, with the goal of further consolidating its presence in the neighbouring country of France, IZAR has prepared a French version of this document, which will soon be available for consultation by customers, corporate partners and the French public.
The Spanish version of the sustainability report is available on the IZAR website now: https://www.izartool.com/images/descargas/pdfs/IZAR_memoria_RSE_2019_2020_web.pdf